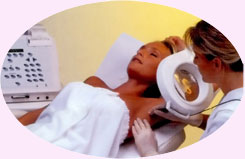 For over 130 years, electrolysis has been and remains the only recognised 100% permanent hair removal method. This technique permanently destroys germinative cells responsible for hair growth, thanks to the insertion of a fine probe in the hair follicle and the application of a current adjusted to the type of hair and the treated area. The creators of Apilus® were convinced that by integrating modern technology, electrolysis could become a much more effective and comfortable technique. They designed a computer-assisted system that concentrates and controls the extent of the destruction in the hair follicle, targeting only the germinative cells and thus preventing new hair growth. This signaled the onset of a new era in the field of electrolysis.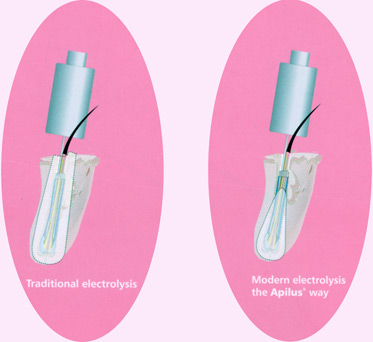 Apilus® offers advanced technology with proven effectiveness in the field of hair removal and have demonstrated time and again that Apilus® delivers more effective and more comfortable treatments as well as much more rapid permanent results than any other hair removal technique.
Thanks to its powerful circuits entirely controlled by computer, Apilus® offers professional electrologists pinpoint precision and perfect settings to guarantee the results you seek. You can finally say goodbye to unwanted hair, whether on the face, or any other part of the body.
Apilus® is also equipped with a unique 'tolerance test', which allows the unit to be adjusted and adapted to your level of sensitivity to the current. Apilus® high-precision circuitry uses application pulses as short as one hundredth, or even one thousandth of a second, which assures incomparable comfort.
Some electrolysis systems are simply better than others. In the same fashion, Apilus® Centres stand out for their professionalism and their desire to offer their clients the best there is in permanent hair removal. In these electrolsis and aesthetics salons, the staff has received in-depth training on Apilus® technology. You can therefore undergo treatments in full confidence , knowing you are in the hands of a certified technician using ultramodern technology and equipment as well as sterilized disposable probes.
An Apilus® electrologist is someone who believes quality and security are key elements of her practice and who puts your well-being and satisfaction first. Don't hesitate to ask for detailed explanations during your first consultation and throughout your treatment.