Permanent Hair Removal for Ladies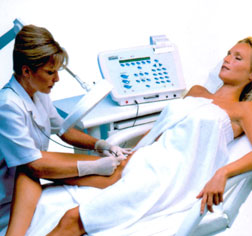 Modern society makes us all much more 'body conscious', and the existence of hair in quite normal places to find it, such as the underarms and bikini area, has become something we would prefer not to have. Unfortunately the underarms, bikini and legs are not the only areas for which help is required. Throughout life our bodies change, and with it hormonal imbalances can cause the appearance of superflous hair in areas such as, commonly, on the chin and lip. Societal pressures, and the existence and availability of modern hair removal techniques, has made everyone more willing to seek assistance. All that, and the fact that mordern life is simply more busy than previously means that frequently a permanent solution to an unwanted problem is sought.
Apilus® technology now provides the most efficient and comfortable, even painless, solution to permanent hair removal than ever previously possible, making it possible to remove any and all unwanted hair, permanently form anywhere on the body, quickly and without the discomfort previously associated with electrolysis. Therefore it is now possible to have underarms free of hair, to have a permanent brazillian, or even larger areas such as the legs can have the hair removed permanently and painlessly.
Treatment Plans
can vary greatly, with initial session times of as little as 10 minutes for hair removal from an upper lip, right up to 2 or even 4 hours depending on the areas required and the urgency, or where extreme hormonal imbalance necessitates. These sessions would be, again initially, at 1-2 week intervals. All session duration and frequency will reduce over time as the treatment progresses.